The Insights Review is a time-saving resource for executives and consultants wishing to stay abreast of the latest insights across the world of financial services.
A message from the editor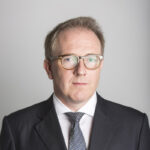 My theme for this month is the formalization of the hybrid workplace. Over the course of the pandemic, we saw the pendulum swing rapidly from office to home-based work. Now, at the encouragement of governments and commercial landlords, it is swinging back again. However, a full return will be impossible as employees realize the many advantages of gig-economy style working, and employers start to understand the many ways to harness the productivity and engagement increases that an ICG-like virtual model brings. As a consequence, executive teams and their CHROs will need to work furiously over the next few months to define the new hybrid normal in an easily understood, fair, and implementable way. Our team of global professionals have embraced this model for most of their careers, so please reach out to your preferred ICG consultant or nearest HUB to inject some of our best practices into your own "new hybrid normal".
I am also excited to introduce a brand new section to the TIR this month, and to welcome ICG's newest senior professional and reviewer. Transformation As Usual (TAU) has been a theme I have raised repeatedly, so it is only appropriate we have a transformation section in the TIR. Our lead reviewer for this new section, Lauren Robins, is a global subject matter expert on the topic and we warmly welcome her to our team.
Our Article of the Month was published by AT Kearney, and reviewed by Peter Dale from our London HUB. Congratulations to the authors, whose article on finding working capital treasure is a must-read piece.
The Working Capital Treasure Hunt – Kearney
Happy ICGing!
David Moloney
Global Editor